Latest offering from Ross & Squibb Distillery Master Distiller Ian Stirsman honors the distillery's 175-year rye tradition, as well as the spirit's popularity prior to Prohibition   
ST. LOUIS (July 20, 2023) – Lawrenceburg, Indiana-based Ross & Squibb Distillery announced the newest extension of its Remus Bourbon brand family: Remus Highest Rye Straight Bourbon Whiskey. A permanent, year-round line extension, Remus Highest Rye Bourbon is available at retail nationwide at a suggested price of $54.99 per 750 ml bottle.
Aged six years and offered at 109 proof, Remus Highest Rye Bourbon packs as much rye into a bourbon as possible, with a mash bill consisting of 51% corn, 39% rye and 10% malted rye.
"With Remus Highest Rye Bourbon, our team pays tribute to Ross & Squibb Distillery's rye tradition by selecting a mash bill that features the most rye a bourbon can offer," said Ross & Squibb Distillery Master Distiller Ian Stirsman. "This bourbon delivers a sweet, rich fruit and maple aroma and a palate containing robust candied-fruit notes, followed by a lingering finish highlighted by notes of spicy cinnamon and saddle leather."
Named after two historic Lawrenceburg, Indiana, distilleries – Rossville Distillery and W.P. Squibb & Co. – Ross & Squibb Distillery has a reputation for producing unique, high-quality ryes and high-rye bourbons dating back to 1847. Rye whiskey saw the peak of its popularity leading up to Prohibition and today is steadily gaining in popularity.
"Our Remus Bourbon brand takes its inspiration from the finest bourbons of the Prohibition Era, and with Remus Highest Rye Bourbon we offer a salute to the enormous popularity of rye whiskey heading into this period," said Shanae Randolph, Marketing Director-Brands for MGP's Luxco Branded Spirits. "We believe rye drinkers and high-rye-bourbon drinkers alike will become fast fans of this newest addition to the Remus Bourbon brand family."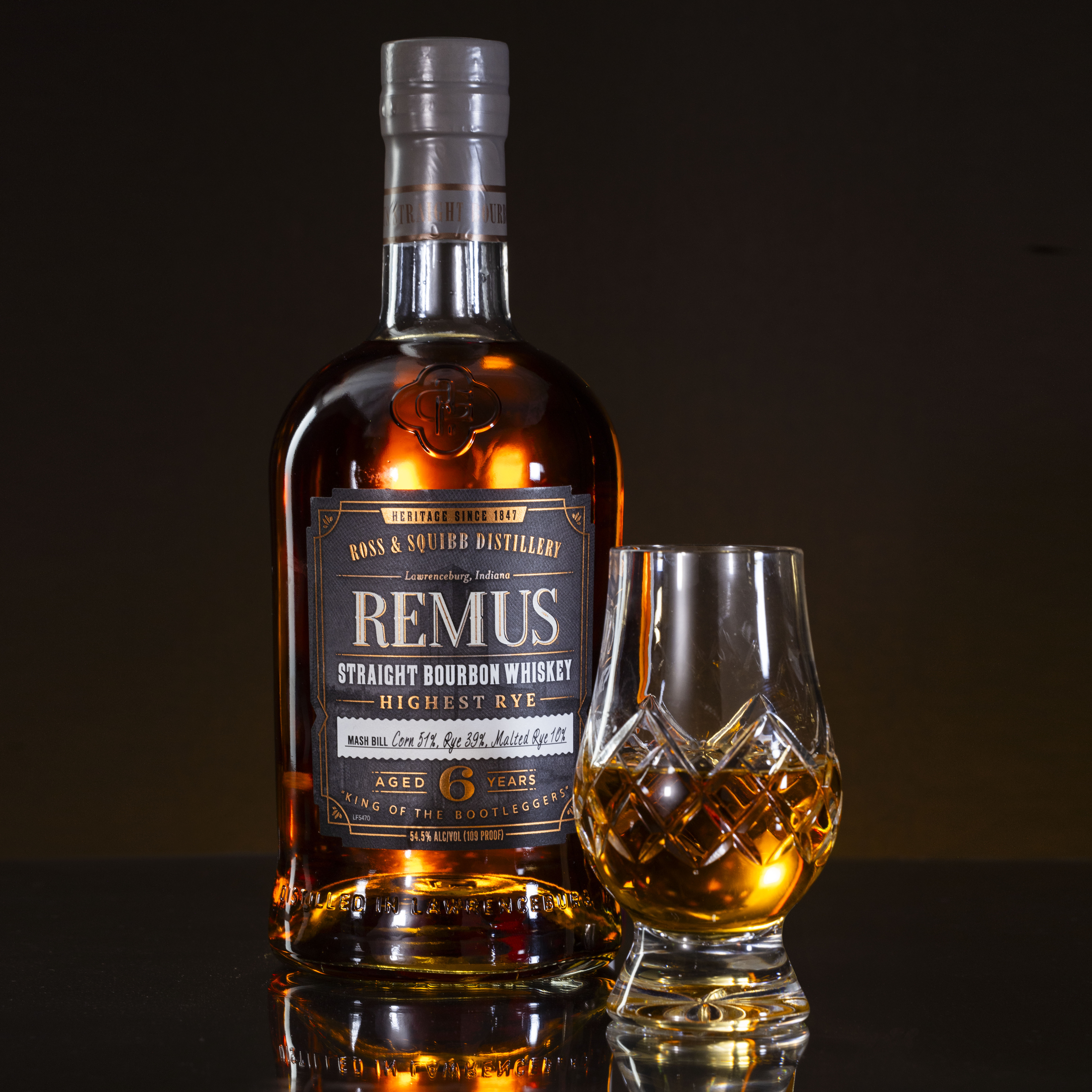 About Luxco
Founded in St. Louis in 1958 by the Lux Family, Luxco is a leading producer, supplier, importer and bottler of beverage alcohol products. Our mission is to meet the needs and exceed the expectations of consumers, associates and business partners. Merged with MGP Ingredients, Inc. in 2021 (Nasdaq: MGPI), Luxco operates as MGP's Brands Division and manages all MGP/Luxco brands. This extensive and award-winning spirits portfolio includes well-known brands from four distilleries: Bardstown, Kentucky-based Lux Row Distillers, home of Ezra Brooks, Rebel, Blood Oath, David Nicholson and Daviess County; Lebanon, Kentucky-based Limestone Branch Distillery, maker of Yellowstone Kentucky Straight Bourbon Whiskey, Minor Case Straight Rye Whiskey and Bowling & Burch Gin; Jalisco, Mexico-based Destiladora González Lux, producer of 100% agave tequilas, El Mayor, Exotico and Dos Primos; and Ross & Squibb Distillery in Lawrenceburg, Indiana, where Remus Straight Bourbon Whiskey and Rossville Union Straight Rye Whiskey are produced. The innovative and high-quality brand portfolio also includes Penelope Bourbon, Everclear Grain Alcohol, Pearl Vodka, Saint Brendan's Irish Cream, The Quiet Man Irish Whiskey, Green Hat Gin and other well-recognized brands. For more information about the company and its brands, visit luxco.com.